OPTION 1: OUTLOOK APP IN WINDOWS
1. Select File > Automatic Replies.
2. Select Send automatic replies.
3. Select Only send during this time range.
4. Choose the dates and times you'd like to set your automatic reply for.
5. Type in a message.
6. Select OK.
---
OPTION 2: OUTLOOK WEB APP
1. Visit https://outlook.office.com.
2. Sign in with your @lyndendoor.com user and password.
3. Select gear icon (settings) in the top right corner and click View all Outlook Settings at the bottom.

4. Under Mail tab, select Automatic Replies. Once configured, click Save button.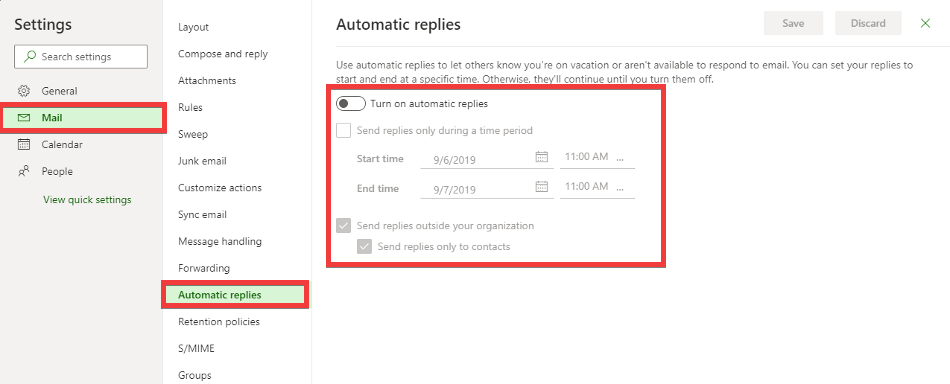 ---
TURN ON AUTO REPLY FOR ANOTHER USER/MAILBOX
1. In your browser type in the address below, make sure to replace the email at the end with the account you already have access to and want to change the auto reply for.
https://outlook.office.com/owa/Another.User@alliancedoorproducts.com/
2. Click Settings (gear icon) in the top right corner and select Automatic replies to get started.