INSTALL ADBLOCK
Follow links below to install adblocker for your browser for extra security.
CHROME
https://chrome.google.com/webstore/detail/ublock-origin/cjpalhdlnbpafiamejdnhcphjbkeiagm
FIREFOX
https://addons.mozilla.org/en-US/firefox/addon/ublock-origin/
EDGE
https://www.microsoft.com/en-us/p/ublock-origin/9nblggh444l4?rtc=1&activetab=pivot:overviewtab
Steps below will show you how to enable the adblock extension.
---
HOW TO DISABLE ADBLOCK ON SELECT WEBSITES
1) Navigate to the website you want it disabled on. Click the uBlock Origin icon
in top right corner.
2) Click the big blue disable button.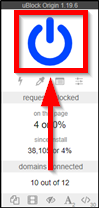 3) Refresh the page